Custom Hire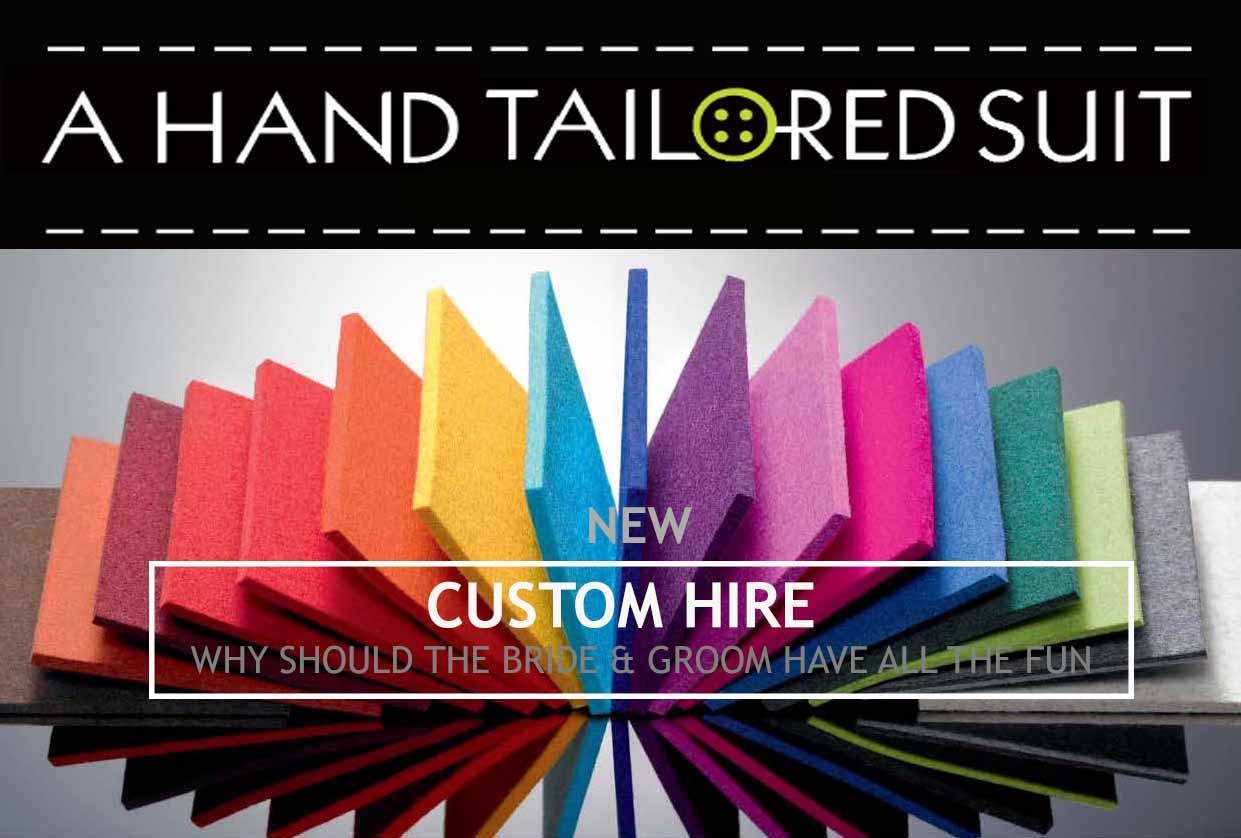 ---
Why wear something that was not made to fit you?
---
Step 1). The Appointment -- You simply book in with the tailoring team either by using our handy online appointment book or by calling the team on 01-5136665
Step 2).The Design -- A member of our tailoring team will guide you through our selection of cloths & designs, we not only offer wedding hire but evening wear black tie hire as well.
Step 3).Collection & Fitting -- Once your Suit order has arrived in studio we will invite you in for a fitting. We would like you to collect your order as soon as it arrives in studio, first fitting ideally should take place one week before function date.
Step 4).The Hire -- We offer a standard 7 day hire option, so you dont have to worry about rushing around to get the suit back to us straight away, we also offer a custom shirt to keep with every hire order. Well its been cut to fit you, you might as well keep it!
---
So What Parts Of The Suit Can I Customise?
Oh now to the fun part, it's really what parts can't I customise.
Fit -- You get to choose the fit as its custom made hire, we will cut to within 2cm (half an inch of your body measurments).
Cloth -- You choose from our cloth selection in studio & we have some fantastic cloths avalible for you.
Style -- You choose the style you want with a little help from us of course.
Jacket -- Choose your Jacket Style?
Lapel -- Choose your Lapel Style?
Buttons -- Choose your buttons & how many you want?
Fun -- Add some fun, a pop of colour to your lapel button hole?
Collar -- Maybe a pop of colour added under your collar, highly recommeded and we even offer embrodiery too. (may be a special message or simply your name or initails)
Stitching -- We also offer coloured stitching options to your cuff buttons as well.
Custom made to fit -- You will find our trousers are also fully customisable, we even include brace buttons for some fun!
To Keep (A Treat) -- We also cut a custom shirt to keep for all of our hire orders, well who wants to return a shirt thats been made to fit you! (Embrodiery also available)
Accessories -- Well if we are going to the trouble of cutting you something amazing for your function we might as well cut you a neck tie or bow tie to match & a pocket square too.
---
Bronze Custom Hire Range
Silver Custom Hire Range
Black Tie Custom Hire Eveningwear
Velvet Custom Hire
Package 7 Day Hire
Bronze Custom Hire Range
Silver Custom Hire Range
Black Tie Custom Hire Eveningwear
Velvet Custom Hire
---